zates
ive decided to go the route of the recluse and make my journal exclusive to my friends on livejournal. even though i know that no one on my friends list reads it at least i know im writing solely for my own purposes. la fin du monde is what i have in front of me. it tastes delicious. like sweet citrus. i like it. im done. im out. goodbye. i'll be creating and posting a link to my journal for my trip soon. not sure where i'll create it. perhaps at livejournal, perhaps at another website but as of right now ive got no idea. stay posted for that. goodbye. its been great. but now its time to take the route of the recluse, and retire quietly...
Current Location:

room

Current Mood:

exceptionally ok

Current Music:

dj shog - running water (shogs 2 faces remix)


this was my dream last night. i was headed to sleep tonight when i realized i did not want to forget this dream so i wrote it out in the greatest amount of detail i could muster. it took me about 35 minutes of nonstop typing to get this out. hopefully it provides some entertainment...



...i remember that it was in the afternoon. and i was near a large body of water. a bay or larger harbor and i was walking on the shore where the tide was running up over my feet. i may have been walking with my grandfather or mother. it was overcast, and not very warm and we walked around the end along the edge of the highway and up into a neighborhood nestled in the trees, which sat overlooking the same bay. it was then that i realized i was walking with my mother and brother. i was walking with my road bike, pushing it along rather than riding it as i had forgotten my cycling shoes. we walked through the neighborhood until me and my mother decided to turn left and head down a street while my brother continued on alone. i wondered how we would get in touch and meet up with him later. we never did. we ended up walking through the neighborhood until we came out and ended up walking along the edge of the bay once again. we were fortunate as the afternoon was giving way to early evening. the lights of the city across the way were just coming on, and nightfall was just around the corner. the sunset took place and i ended up alone at the edge of the bay chatting with a group of friends about an upcoming gladiator combat. there were lots of people i knew. lots of people i didn't know. and i ended up chatting with a girl with blonde hair. i remember she was strikingly beautiful. i didnt like her lower body but her face and eyes were amazing. it stopped me dead in my tracks. and we ended up in a dark corner and i forced her against a wall. i moved in for a kiss right as she confirmed quietly in my ear that she in fact wanted me to kiss her. it was intoxicating. i paused briefly for a moment to consider her face once more before plunging back in for another kiss. we made out for several minutes before we were forced to stop as the gladiators were about to fight. we took our seats and the rules were explained. the victorious gladiator of each battle would have to eat some piece of his victim. whether it be the head, a leg or arm, he was required to eat some piece of them. we sat there, battle after battle, watching the victor eat a piece of the loser. once the gladiator combat had subsided, my sister, brother, and i retreated to the confines of a local marine biology research center. once there we crouched on a small circular pier and looked at marine life. after, we went inside and i remember it was stormy. the waves were coming up higher than usual. i knew some of the people that worked there. some people were from the seattle aquarium. the researchers also seemed to be doing some kind of basic chemistry. creating certain things. i also soon realized that there was a restaurant sitting atop the research center. various people would come in, asking for refills on CO2 cartridges for whipped cream dispensers. there also appeared to be two sides to the research center. they were always constantly competing between one another. my sister and i walked down to the first floor and found ourselves in a diving supply room. in one locker i noticed a photo of andrea dossantos and told my sister that i knew her from the aquarium. catherine was there with her grandmother and i walked outside with vee. the waves were rolling up, close to the building as we made our way around out front. i remember seeing the sky was dark and gray. and just before we could make it to the front, we both stopped, as our attention was now focused on an orange pile of fish laying inert on the cement, half exposed to the rising tide. once they saw us, they scattered and vee decided to jump in the water to play with them. i stood and watched as she transformed into a sunfish before my very eyes. the former pile of fish, now a school, sucked on her body and she tried to do the same back. i was worried they would eat her on accident. i turned around to see catherine walking her grandmother back to her car and i helped her in. once she was helped back into catherines car, i sat down and chatted with them. apparently there was a woman inside the restaurant that had done something bad. catherines grandmother had been wearing a wig to hide her thinning hair, and i vowed to find the woman inside the restaurant. i took the wig and her grandmothers sweater and pants and went inside to find the locker room so i could change and sneak in undetected. i did so, checked myself in the mirror, and deciding i looked pretty good, left the safety of the locker room and made my way through to the entrance of the restaurant. i decided to walk slightly slouched, slowly, and with a limp so to play the part of an old lady. despite some odd looks shot my way i made it in and was able to walk around freely. i was surprised to see that it was almost like a ballroom inside. with a buffet lining the perimeter of the room and open space in the middle. i picked my way slowly around the room playing the part perfectly and ended up making it all the way around ending my search for the woman unsuccessfully i made it back to the entrance, removed the wig, and sprinted for the door, trying to ignore the wide-eyed stares as i did so. i ran outside into the dark cloudy night, jumped into the back seat of catherines convertible and she stepped on the gas. she was headed straight for the pier and upon it, my brother and sister were standing looking once again at marine life. catherine was in a hurry and explained to me that she was simply going to drop me off and then go somewhere she had to be. once onto the pier i realized we were going way too fast and she turned the wheel sharply left while the tail end of the car swung around to the right and we slid off the edge of the pier. i remember looking down and getting thrown from the car and seeing the dark water and feeling scared about falling in. the subaru hit the water behind me and i became surrounded and submerged in dark violent water. the headlights disappeared beneath the water, everyone was surfacing, i remember trying hard to make sure i didnt lose my left shoe in the process. it felt as though it would slide off as i resurfaced. eventually i surfaced and my sister was in the water with me. she explained that i was ok and everything would be alright. i struggled to find a way out. i was scared of swimming in water i was unable to touch in and she directed me towards a ladder that allowed for easy exit and i slowly grabbed on and pulled myself up. my clothes were soaked. once on top of the pier i remember trying to send and recieve text messages only to realize that my cell phone had been drenched in the process. the screen looked as though it might soon short out and fail to continue working but it did not. at this time my own cell phone vibrated and i opened my eyes to see a txt message in real life. that was the end of my dream...
z

Current Location:

room

Current Mood:

dead

Current Music:

death cab for cutie - what sarah said



im driving through the rain late. the water hitting the windshield faster than the windshield wipers are clearing it. the roads are a mess. yet there is no one else out at this hour. i might as well have been on another planet. nights like these. where i feel completely alienated. no matter what i do. really blow ass. i drink. i smoke. yet even as im driving through these horrible conditions, i feel nothing. perhaps that is best. i don't know where i should be tonight. here in my room. somewhere else. with friends. with family. alone. who's to say? ive got everything i need right here, yet i feel so fucking alone. it's nights like these that i wish she were here. i know she feels the same yet some nights, and some days it feels like she wants nothing to do with me. and as the lyrics "i need you so much closer..." repeat over and over i feel them inside my heart. it is so true. there ARE greater forces at work here than either of us are able to comprehend. and even though i believe that. i have so much difficulty in believing that. why is that? i want her so bad. feel as though she is the one thing in my life that makes sense. feel like if we were together. if we became one then everything in the world would make sense and all would be good. some nights i drink just to feel nothing. i don't want to think about this. i don't want to deal with this fucking fucked situation that i'm in. i want january to be here so much more quickly. and even though it feels as though it's coming at one thousand miles an hour, i want it faster. i want her face. her hands. her mind. her words so close. i want to taste her being. i want to feel her body. i want to lay in her arms. and she has told me she wants it too. but i tell you, some days and some nights i really doubt it. im so scared to let go of what i've got here. so scared to take a chance. so worried that she won't be what she is inside my dreams. so scared that she won't be what she was on the phone. so scared that what this is just can't amount to what we both have felt. i want to let go. and feel only the wind. hear only the passing whispers. feel only her touch. all i want is one day. one day to confirm or unconfirm what i know is oh so fucking true. that's honestly all i've got. i'm tired of this life. im tired of wanting so much more but feeling as though i'll never get what i really want. feeling like i'm tied to this post. i want so badly to take two steps aside. take a moment to catch my breath. i don't want this. but i'm so scared to let go because what if i let go only to realize that what i lost is really what i want? i'm 22. 22 fucking years old. so young. so naive. so lost. so small in this universe. what is this that i'm feeling? just come to me and be with me and let us feel this amazing feeling like we do whenever i see or hear your words. fuck. just please come and take all of this away. make it evaporate into nothingness. but alas, my dreams. my fears. my aspirations amount to nothing. and in the end all i'm left with is me. maybe that is self-centered. but it's fucking true. tonight it's me and shiner bock and the last two bottles of beer that i've got left. fuck me once again.






...






.

Current Mood:

trodden

Current Music:

death cab for cutie - transatlanticism
Musashi Miyamoto's Poetry
by: Lula-vampiro
http://lula-vampiro.deviantart.com/
we reconstruct the man
from shards of paper and pottery
(a shrike in ink
a small wooden bodhisattva
a practical treatise on swordplay)
he said his only teacher was Nature
which is a fine thing to say
when you're good at everything
they say he slew Ganryu
with a length of oar
he'd whittled on impulse into a sword
so much for the soul of the samurai:
not metal, flashing and hard
priceless and irreplaceable
only a discarded wooden spar
emerging from refuse
to refuse returning
and perhaps his poems were the same
nourished by earth and water
whispering an answer to wind
burbling off towards the long sea
and this is how history left him
and this is how I might find him:
an old man on a mountain
preparing future warriors for poetry
writing his way back
into the world that wrote him
when he emerges from his grotto to converse with the single scarred wholeness of the moon, I steal towards his poems and brush the pages across my hands, like reaching for a damselfly at rest, to see how his brush struck a river through the page. My guard thus lowered, I do not see him enter; and this old man, who holds life and death in either callused hand—this man asks me with a child's eagerness which ones I like best, and whether I would like to take any of them home with me; and I smile, relieved, as if a falling hawk had not struck my eyes, but instead alighted on my glove; and I say, no need, I will remember them.
and in these days you may notice me grinning at nothing, or pausing on the morning after a storm to admire a branch that has split our path; I may spend time contemplating a mushroom, or a flickering bat; perhaps I'll take a breath, secretly watching your eyes sing across space like the compass moon; yes, perhaps you'll notice
and you may stare and ask me what I am doing
and I will answer
"I am reading Musashi Miyamoto's poetry."
...





i love this piece. makes me feel calm. and sums up how i feel about poetry as well.

"and in these days you may notice me grinning at nothing, or pausing on the morning after a storm to admire a branch that has split our path; I may spend time contemplating a mushroom, or a flickering bat; perhaps I'll take a breath, secretly watching your eyes sing across space like the compass moon; yes, perhaps you'll notice"

i love that. great work.
:]



horse in the sea
mosquito king

mosquito king come back next year
our home will be your home
the days grow dark as nights get cold
these years just make us old
i miss the snow
climbing up our backyard tree
we fall and get back up
leave the dirt and scuffs we gather
mom will wash us off
the sky will lay a sheet of snow
for us to lay and grieve
if all the world were just one room
id stay to be with you
da da da da da da da
we choose to live alone
da da da da da da da
where the hell is home?
home
home
mosquito king come back next year
our home will be your home
the days grow dark as nights get cold
these years just make us old
we'll never know
i drove for hours last night
looking for you
i drove for hours last night
looking for you
tell me where are you?
tell me where are you?
i drove for hours last night
looking for you
i drove for hours last night
looking for you






...







I love this song. and also mannequin. really relaxing. last night i worked nearly 12 hours. im so dead right now even though i slept for about 6 hours. i get to do it again tonight. and then sunday and monday and tuesday! haha i hope i can make it through. walked out with $60 last night, and i was rather pleased with that. that about the maximum we made when i worked at the golf course. most ppl were disappointed bc they are used to making much more. in time i suppose. honestly im just happy to be walking out with cash. i dont have to touch my bank account. the less i spend from my bank account the better. i think also i wil be quitting van heusen. if i can work 5 days a week at the casino then i'll be set. plus, weekends are so much more busier than weekdays that i'll be getting plen T of hours. hopefully 40 at least. i think im going into OT for this week. the only day i didnt work was wednesday and i only missed 2 hours plus im picking up a shift tonight.
so im feeling a little bummed about jates. i hope i didnt wreck her night too badly. i hope i didnt wreck our friendship too badly. we'll see. im gonna email her sometime in the next couple of days...


zach
Current Location:

room

Current Mood:

ok

Current Music:

horse in the sea - mosquito king
feeling a little on the introspective side tonight. i intended to write something of a short story. or prose or poetry or whatever you call what i write but after talking with jates just afew minutes ago it really has me feeling like i let her and myself down. and i cant stop listening to mannequin by horse in the sea. i would really like to just take a long drive this late evening. watch the white center lines of the freeway speed by and lose myself in the repetition. maybe drive up to snoqualmie pass and stand beside my car in the early snows of the season. i want to see my breath, feel it trickling slowly from me, taking my soul to unknown heights. if only i could go along with it. so many crazy things running through my head over the past couple of weeks. november is here for christs sake. november, december, january and then im gone. its incredible to think. so much undecided. so much to worry about. so much to consider. i try to take it day by day but its so difficult. when i see the leaves falling quickly, every day the trees becoming more bare. poetry is in the wind and in each amazing moment. its every time i stop to consider the vista, or take a second look at the way the trees protrude through the mist. poetry is all around us, we just have to look closely. sometimes i wish i could take back some things ive said. sometimes i wonder why i do what i do. we always cast ourselves in a different light than our friends, acquaintances, relatives, mothers and fathers. the words and past and possibilities are always all around us. just shut your mouth and go with the flow instead of trying to restrict it or change the fucking direction. tonight is cheers to me. honestly, fuck me...
Current Location:

room

Current Mood:

lost

Current Music:

coldplay - lost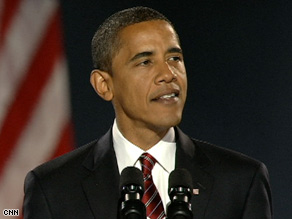 so today i voted for barack obama. and was pretty nervous going into the election. a lot of factors could tip the scales in favor of mccain. i had to work, but was fortunate enough to have access to a tv for the majority of the night and was able to see the final victory. nearly every one of my coworkers was pumped. we were exchanging high fives and there was a mutual feeling of relief and happiness that barack had actually won it. i for one feel very passionate about this election. ive only really been involved in 3 elections, and only able to vote in 2 of those, but this one meant a lot to a lot of people and it really meant a lot to me. i think it really sets a benchmark and marks a turning point in world history. it makes a point that anyone can do anything no matter what your background. i know a lot of ppl look at this election with a lot of pessism. stating that ppl have hyped barack up only setting themselves up for disappointment when he doesnt deliver all he promised. but i think barack is the new age president. he brings to the table common sense, good ideals, and an optimistic outlook. he is eager to get started and get the ball rolling. on the other hand like i have also heard, its easy to sit back and expect change to happen on its own. but thats not how it works. it will require effort on everyones part. individuals, communities, groups, states, etc etc to help bring about this change. and barack has not stressed this enough. he cant do it alone. he needs everyones help to make the change. honestly when i hear barack speak, i get misty eyed and all i can do is smile and hope, and know deep down that tomorrow will be better than today. im really glad my fellow americans elected barack. it shows that all is not lost here in america. he not only swept the popular vote, but also the electoral vote and the fact that he did so says a lot. the past few elections have taken days to figure out and it has almost become commonplace to expect recount after recount. not this time. america made the right move to elect barack. hes got common sense and i know he will work hard to do what he can to fulfill his promises. i have faith in this man. we did it. and i honestly feel the sky is the limit...
Current Location:

room

Current Mood:

optimistic excited relieved

Current Music:

happy
http://profile.myspace.com/index.cfm?fuseaction=user.viewprofile&friendid=90287848
horse in the sea
mannequin



theres a mannequin on its way to keep me warm, to keep me safe, to listen.
its spine will offer more than modern hearts and modern way of thinking.
where are you?
where are you?
since we have been grown ups, there is so much to be done.
since we have been grown ups, there is no one to be known, known.
there is nothing i could have said to prepare you for this,
there is nothing i could have done,
there is nothing i could have said to prepare you for this, for this.
theres a mannequin in the store where people shopm where people go to feel good,
and all the little toys are dressing up to smile with no intentions.
where are you?
where are you?
since we have been grown ups, there is so much to be done.
since we have been grown ups, there is no one to be known, known.
there is nothing i could have said to prepare you for this,
there is nothing i could have done,
there is nothing i could have said to prepare you for this, for this.
can i have you? for all of my life, for all of my life?
can i have you? you...
can i have you? for all of my life, for all of my life?
can i have you? you...you...you...
you...you...
you

....
and i didnt want to stay up late yet here i am abusing the right to daylight savings time and an extra hour of sleep. fuck me. plain and simple. my way of thinking always gets me in trouble. my so called handicaps will always fuck things up. that is my mindset while im listening to late night tunes wishing i were somewhere else driving late through the night to feel nothing but pure oblivion. listening to acoustic driving tunes, sharing coffee and soaking up all the exciting interesting intellectualisms you throw my way. but alas it is just a dream. always just a dream. but we could be there if we really wanted to.
L
O
S
T
...
goodnight.
...
end
Current Location:

room

Current Music:

horse in the sea - mannequin


zach
its 943 on a saturday night and im sittin here with sore feet feelin like ive only been half here today. my mind has honestly been somewhere else and all throughout the day i felt like i was just on auto pilot. just doing everything bc thats how it is supposed to be done. i dont feel like i truly felt anything all day. last night was a blur of falling leaves and empty bottles. and all the deep conversations i had are gone. im sitting here listening to owen and it feels so good. i dont think there is any other place i would rather be. actually i could probably name a few. i just dont know. i dont know why i am the way i am right now. dead. drained. tired. not here. numb, yet acutely aware of everything. i want to end tonight. and wake up with tomorrow on fast forward until 630 and im fucking done at van heusen. some days i doubt this trip to south america. some days i doubt my own thoughts. and some days like today i doubt whether or not i really am a good person. thats all i got to say right now.
Current Location:

room

Current Music:

owen - bed abuse


z
today i took a bike ride from my house down the iron horse trail. i was surprised to learn that it was in fact, the iron horse trail, as it just so happens this trail begins at rattlesnake lake, which is just afew mins from my home, traverses snoqualmie pass and ends down in ellensburg. all in all it turns out to be about 120 miles roundtrip. it used to be all railroad, but they have since pulled up all the ties and converted it to a hiking trail. it was chilly today. a typical autumn day. lovely autumn colors. riding under trees dropping life. over paths of yellow and brown. i was able to gaze out over interstate 90. i felt like i was on top of the world. i passed an old depot named ragnar. dont know if it was named after Ragnar Skancke or not but the guy has an interesting history. and i do love history. anyways i had no idea how far i had gone but i reached twin falls substation, which is perched high in the mountains and decided to head back from there. it was an ice cold reinvigorating ride back down to civilization and i made it back home just before dark. i took some time and figured out how to get the photos from my camera onto my computer so i could process them. i posted 3 on deviantart and facebook. yay. anyways, other than that not much new to report. im pumped for the casino to open. i hope its amazing!!! byebye
Current Location:

room

Current Mood:

somewhat tired

Current Music:

brand new - jesus christ